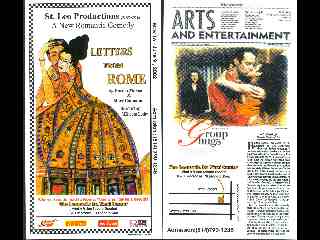 St. Leo Productions presents
Letters from Rome
By Enrico Museo & Mary Caimano
Directed by W. Steven Lecky
Original music by Franco Cappadoro
Letters from Rome is a celebration of the human spirit. After his accident, Nick gains a newfound appreciation for life and wants to start a family. With comic results, his wife, Nina, becomes the object of his passion. Meanwhile, family and friends face their own struggles: Gianna doubts her fiancé's love; Giacomo is infatuated with the widow next door; and Nick's friend, Frankie, secretly pursues his longlost sweetheart. All the while, Grandmother prays for a good night's sleep.
Maria Bugge Viviana (Nick's widowed mother)
Mary Caimano Nina (Nick's wife: Giacomo's daughter)
Giancarlo Caltabiano Frankie (Nick's friend)
Nathalie Cavezzali Rachel (Nina's business assistant)
Jimmy Daddi Romano (Gianna's Italian fiance)
Victo Di Filippo Nick (Nina's husband)
Domenico Di Donato Giacomo (Nina's father)
Edda Ricignuolo Melania (Nina's grandmother; Giacomo's mother)
Linda Tomassone Gianna (Nina's sister)
.... When all roads lead to Rome "this one" takes a detour.
ADMISSION Tickets: (514) 790-1245
Ticket Price: $24
DAYS & TIMES
matinees
Sunday May 26 &June 9 - 2:30 pm
evenings
Thursday May 16, 23, 30, & June 6 - 8:30 pm
Friday May 17 & June 7 - 8:30 pm
Saturday May 18, 2 5, &June 8 - 8:30 pm
Sunday May 19, 26, &June 9 - 7:30 pm